"A successful go-to-market is key in giving your early stage company the best change of success. Founders who lean into this and get good at selling will have a key advantage, and Founding Sales is a great source to help founders do just that."

Josh Kopelman, Founder @ First Round Capital & Half.com
"Having gone from founder to seller to sales leader, I know from experience that the struggle is real. Founding Sales truly sets you up for success on that path, so you can eventually graduate to true scale and revenue acceleration."

Mark Roberge, Managing Director @ Stage 2 Capital & Author of "The Sales Acceleration Formula"
Buy Founding Sales Singles or Bulk Purchase
"A key part of the successful B2B SaaS journey is for founders to successfully sell their first handful of customers before professionalizing their sales org. Founding Sales provides the tooling for founders and other early stage executives to achieve this critical milestone."

David Skok, Partner at Matrix Ventures & author of forEntrepreneurs.com
"The more people with modern, intelligent, empathetic selling skills, the better. Founding Sales is a wonderful on-ramp into gaining those skills."

Kyle Porter, Founder & CEO of SalesLoft
"You can't build a revenue house based on outbound selling without a solid foundation. Founding Sales helps founders, and other first time sellers, understand the basics that create that foundation and allows them to successfully scale."

Trish Bertuzzi, Founder of The Bridge Group & author of "The Sales Development Playbook"
"Modern sales organizations succeed by a thoughtful, rigorous approach to the art and science of sales. Founding Sales introduces founders and other first time sellers to these concepts clearly and comprehensively."

Jeremey Donovan, SVP Sales Strategy & Operations at SalesLoft & author of "Leading Sales Development"
"[My book] Predictable Revenue introduced the world to scalable outbound sales. But it won't work without a solid foundation. Found Sales helps founders and other first-time sellers go from a dead stop to first gear in sales (the hardest part). Time after time, first time founders and sellers try to sell and grow sales too fast, leading to failure. Founding Sales gets you started, building that foundation first so you're prepared to scale later.

Aaron Ross, Co-CEO of PredictableRevenue.com & author of "Predictable Revenue"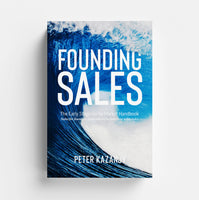 Buy the book
Founding Sales is the most comprehensive resource on the techniques required for early stage startup sales success.
Buy Founding Sales
Table of Contents
• Mindset Changes in First Time Sellers
• Baking Your Sales Narrative and Product Marketing Basics
• Sales Materials Basics - What You Need to Sell & How to Build It
• Early Prospecting - Finding Your First Customers
• Prospect Outreach & Appointment Setting
• Early Inbound Lead Capture & Response
• Pitching - Preparation, Presentation, Demos, & Objections
• Down Funnel Selling - Negotiation, Closing, & Pipeline Management
• Customer Success Basics - Implementation, Ongoing Success, & Renewals
• Early Sales Management, Scaling Concepts, and Sales Analytics
• High-Impact Sales Hiring
• Sales New Hire Onboarding & Training
• Hiring Sales Management
Real World Praise for Founding Sales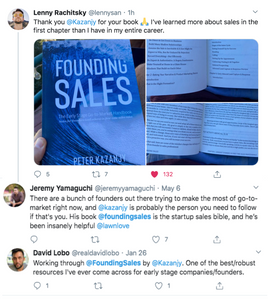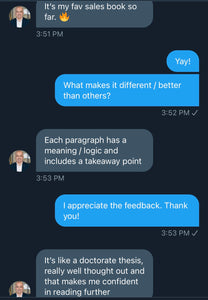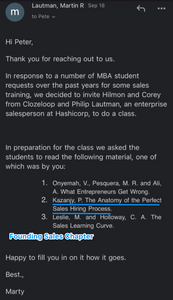 Business School Curriculum
Founding Sales included in the syllabus to a Wharton startup sales class.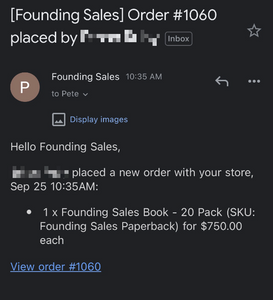 Venture Fund Portfolio Support
Venture funds purchasing Founding Sales as required reading for portcos.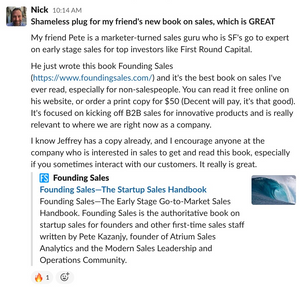 Organizational Education
Companies that want to infuse their teams with go-to-market acumen buy Founding Sales in bulk, or pay for their staff's singles.
More Real World Praise for Founding Sales